E-agriculture: Harnessing the Power of Technology to Empower Farming Communities and to trigger rural development
It is estimated that for the poorest people, GDP growth originating in the agriculture sector is about four times more effective in reducing poverty than GDP growth originating outside the sector-making the sector critical for over­all growth, poverty reduction, and food security in any nation.
Traditionally, the agriculture sector is seen devoid of advanced technology usage. The practitioners in this space correctly blame the lack of access to right information, in the right format, at the right time for constraining the development of agriculture sector and the economic actors linked to it. Enabling and integrating the use of Information Communication Technology (ICT) services at the various stages of the agricultural value-chain can unleash a multiplier effect for the farming community, the other players in the value chains and the sector as a whole.
Leveraging the power of ICT to address information asymmetries and to unlock innovation potential, E-agriculture is seen as an emerging field focusing on the enhancement of agricultural and rural development through improved information and communication processes.
What is E-Agriculture?
E-Agriculture involves the conceptualization, design, development, evaluation and application of innovative ways to use ICTs in the rural domain, with a primary focus on agriculture. E-agriculture offers a wide range of solutions to some agricultural challenge and holds great potential in promoting sustainable agriculture while protecting the environment and finding an effective way to feed the world's population.
Source: FAO and ITU
How does E-Agriculture offers ICT driven solutions to numerous agricultural challenges?
The Food and Agricultural Organizations of the United Nations (FAO), classifies the use of ICT into three broad areas of development: production systems management, ICTs for market access, and ICTs for financial inclusion. The ICT in Agriculture Sourcebook classifies the use into enhancing productivity on the farm, accessing markets and value chains and improving public service provision.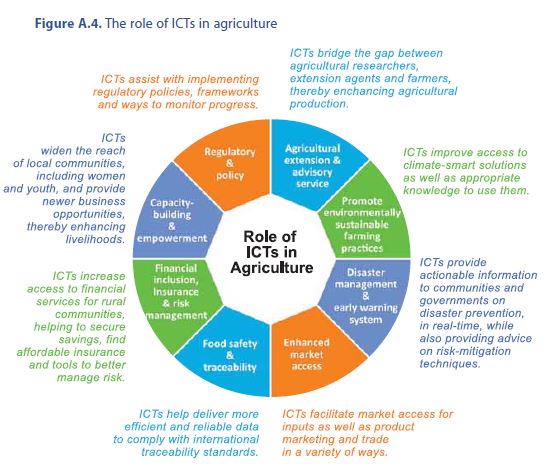 Source: FAO and ITU
The E-Agriculture Strategy Guide as guiding framework for Nations to design and implement their E-Agriculture solutions
Setting in place a national e-agriculture strategy is an essential first step for any country planning on using ICTs for agriculture. The E-agriculture Strategy Guide, published by the Food and Agriculture Organization of the United Nations and the International Telecommunication Union provides a framework for countries in developing their national e-agriculture strategies. This guide a presents a three-step methodology for developing a national e-agriculture strategy: the development of e-agricultural vision; the formulation of an Action Plan; followed by establishing a monitoring and evaluation framework of the E-Agriculture Policy.
From policy to execution
In Asia, Bhutan and Sri Lanka are the pilot countries to use this framework to develop their own national e-agriculture strategies.