India ranks 100th among 119 countries in Global Hunger Index: What does it mean?
October 18th, 2017, 8:35 am
|
H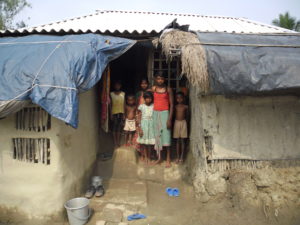 appy Diwali! As you light your lamps today 194 million Indians will sleep hungry in darkness.
The Global Hunger Index 2017 published by International Food Policy Research Institute (IFPRI) reveals India has failed to feed its poor and slipped down three positions from 97th to rank 100th among 119 countries. India trails much behind neighboring countries Bangladesh and Nepal who have slashed their hunger scores by almost 50% in the past 25 years while India has managed to cut down only a third of its score. To deepen your understanding – India shares its rank with Djibouti and Rwanda at 100th who have improved their hunger scores by 48% and 41% respectively, way more than India.
But what do all these mean?
The country is generating an army of undernourished children who in the next couple of decades will shoulder key responsibilities across sectors. In 2015, 1.2 million children in India died before they turned 5. Those who survived are cursed with irreversible physical and cognitive damage. With 48 million children (40%) lacking normal physical growth, India is home to the largest population of stunted children. With 20% of India's under-5 children wasted (low weight for height ratio), the country houses more than one-third of the global wasted children population.
The Global Hunger Index (GHI) uses four indicators to arrive at the hunger scores:
a) Undernourishment: Percentage of population with inadequate supply of nutritious diet
b) Child Stunting: Percentage of children under five years who suffer low height-for-age ratio
c) Child Wasting: Percentage of children under five years who suffer low weight-for-height ratio
d) Child Mortality: Percentage of children who die before the age of five
Quite clearly, we lag in each of them. With the significant disparity of being the 7th largest contributor to GDP globally and 100th in GHI, it would be fair to comment we are not doing enough to improve our health and nutrition capabilities.
But why do we lag behind even with the plethora of food and nutrition schemes?
Because we are treating nutrition in isolation. The nutrition challenges are multipronged and would need a multi-sectoral approach. With 40% Indians still practicing defection in the open we cannot expect a grain subsidy will improve our health. With 13% of the country's population yet to have access to basic drinking water facilities mid-day meals cannot help in providing the best of nutrition, nor can a mother in rural India in the absence of basic health education take proper care of her children during his/her infancy.
Then, how do we solve the food and nutrition challenge?
Instead of framing new policies on food and nutrition we have to identify and improve the execution gaps of our existing policies.
Hunger and Undernourishment cannot be solved in isolation. They have strong linkages with Sanitation, Access to drinking water, Agriculture and Education. We need to navigate through the nutrition challenge from a multi-sectoral approach integrating the relevant sectors in our policy frameworks rather than taking it as an isolated issue.
80% of farmers in India are from the marginal or small category. We need to conduct awareness programs for our farmers to promote growing food crops and practice subsistence farming for their food security and nutrition.

Here's hoping India will be somewhat healthy and nourished by next Diwali.