wPOWER: Connecting the Dots, A Resource Guide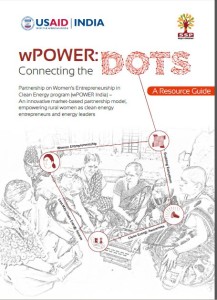 "My message to the wPOWER women entrepreneurs is…You are leading the clean energy revolution. Please don't stop it."  expressed Colin Dreizen, Director, Clean Energy & Environment Office, USAID India at the recently concluded wPOWER Global Partnership Forum 2015.
The Global Partnership forum saw the official launch of the Resource Guide titled "wPOWER: Connecting the Dots" a knowledge product created by Re-emerging World. The resource guide outlines how wPOWER India adopts a market-based approach to help the entire clean energy value chain provide workable solutions for rural India.
Mainstream interventions have attempted to address rural access to clean energy in the past. Majority of large scale efforts have focused on generating clean energy awareness or on providing access to clean energy solutions. Women's empowerment efforts have promoted entrepreneurship while wider development efforts have aimed to create a supportive stakeholder ecosystem. Very few initiatives on scale, have however, attempted to address all of these issues at one go. This is where, wPOWER India is unique.
The Resource Guide explains about this uniqueness and how the wPOWER initiative connects all the vital dots
Women entrepreneurship,
Clean energy awareness, last mile clean energy access
An enabling partnership ecosystem.
It aims to equip readers with an understanding of how a diverse ecosystem comprising of various stakeholders including donors, the private sector, government agencies and financial institutions can contribute towards scaling and replicating the wPOWER India model.
Click the below link to access and download the full guide.